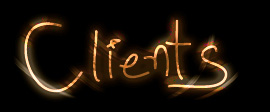 CLIENT LOGIN HERE
Our extensive clientele includes some of the best known names and most popular shows in television. Names like Oprah Winfrey, and shows like The View, NYPD Blue, Survivor, and ABC's 20/20 News.
Companies choosing our music to represent their products in commercials include Coca Cola, Ford Motor Co. and American Airlines.
Musicians who have worked with us include Michael Jack son and the Jackson Five, Carole King, world music superstar Johnny Clegg and the legendary Mr. Harry Belafonte.

COPYRIGHT MMXIII, ALL RIGHTS RESERVED