The Summerfield Music studio has been created from the ground up with acoustic excellence as the established goal. Custom-built under the guidance of master acoustician Jeff Cooper, the fully floating naturally lit control room features an expansion ceiling design for the most accurate listening and mixing environment.

The studio also features an acoustically configurable wood-floored live room, a comfortable isolation booth and an extensive collection of vintage analog and digital synthesizers and outboard effects.





"I LOVE recording real players performances with real equipment and LOVE to use both Analogue and Digital techniques. Here is a list of some of the toys I use..."
Studio Equipment List:
Console
Neve VR 36 input with Flying Faders automation and Film Centre Section, plus the John Musgrave upgrades and the Ice Heat reduction Mod.
Monitoring
Genelec 5.1 - 1032a with 1092 Sub bass
Yamaha NS10M on a Brystan 3B
Aura Tones on a Hafler 200
Microphones
Neumann U67 tube (X2) Vintage
Neumann U47 tube (X2) Vintage
Mojave MA2 Tube (X2)
Royer Ribbon R122 (X2)
AKG 414 EB (X2)
MG M70
RODE NT 2 (X2)
Shure 57's (X8)
Sennheiser 421's (X4)
AKG D112
Analogue Vintage & Modern Synths (all Midi)
Micro Moog
Mini Moog
Memory Moog
Roland MKS 80 with controller
Roland MKS 70 with controller
Roland CR68
Roland SPV 355
Roland TR808
Roland TR909
Roland TB303
Roland Juno 60
Roland SH101
Oberheim OBXA
Oberheim OB8
Prophet Pro1
Roland Jupiter 6
Nord Lead 2
Virus C
All Major & Minor VSTi's most sample libraries.
Hardware & Software Signal Processing & DAW
Apogee AD16X
Neve Prism Rack 5 mic pres
Neve Prism Rack 5 EQs
API 2500 Compressor
API Lunch Box (6) Mc pres 512's
Audio Upgrades Dual mic pre
Valley People Dynamite Comp/Exp (8)
Dbx 160 vintage compressor
Lexicon PCM 91
Lexicon PCM 60
Lexicon PCM 70
Lexicon LE200
Lexicon L300 with Lark
Roland SDD 320 Dimension D
Roland SDD 320
Roland SRV 2000
Roland SRV 3000
Sherman Filter
Electrix Filter Factory
Izotope 5 Ozone Advanced
Izotope Rx2
Rx2
Nuendo 6.0
ProTools 9.0
UAD2 Card fully loaded
Waves compete
LIVE with APC 40
REASON
and many more....too many.
Computers
MAC Pro 12 core 2.93 Ghz with SSD & RAID
PCs Vision DAW (X4)
All Computers use Midi over LAN
Local MAC Mini FTP Server
Studio Instruments
Remo Drum kit & 10 Snares Drums from new to 1960 Ludwig
Fender Jazz Bass 1972 and many more new & vintage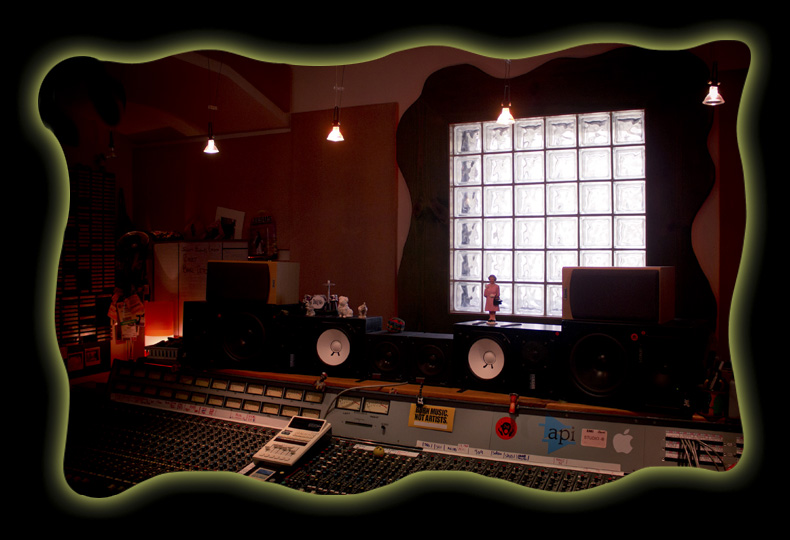 COPYRIGHT MMXIII, ALL RIGHTS RESERVED